We are very pleased to announce that our Gluten-Free Smoked Haddock & Mozzarella Fishcake has won a Silver FreeFrom Eating Out Award this year! The FreeFrom Eating Out Awards exist to encourage innovation and celebrate freefrom excellence in the foodservice industry.
Compromising on taste is simply not an option for our passionate NPD team when developing new gluten-free products to meet the ever-increasing customer demand. Not only does it need to tick the taste box, we also monitor trends to ensure that our products are on trend and innovative so that you can offer exciting and inviting menu choices.
We are delighted to be rewarded for our efforts in developing this popular fishcake as gluten-free!
Product Benefits
Sustainability: contains MSC smoked haddock
Gluten-free: demand for gluten-free continues to rise
Frozen: Portion controlled, zero wastage
Tastes great!
Serving Suggestion
Serve our fishcake with crispy seasoned fries, roasted vine tomatoes and caper tartar sauce.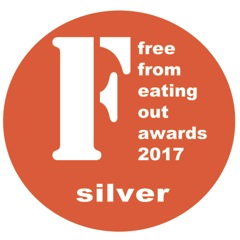 For more information about the awards and their winners visit http://www.freefromeatingoutawards.co.uk/