OUR VEGGIE PRODUCTS
With 25% of the population set to be following a vegetarian or vegan diet by 2025, it's essential to have show-stopping vegetarian options on your menu. From our more-ish Mozzarella Bites to comforting Mac 'n' Cheese Bake, the Paramount range is perfect for veggies, flexitarians, and anyone looking for a deliciously cheesy treat.
Click here to download our latest brochure for our full range of delicious vegetarian products, plus many more.
TREATS YOU CAN TRUST
Paramount's Butternut, Goat's Cheese and Beet Burger is an irresistible combination of flavours, sure to keep customers coming back for more.
This, and all of our vegetarian products, are certified by the Vegetarian Society, so you can serve them with confidence.
INDULGENCE & COMFORT
Interest in indulgent, nostalgic dishes is at an all-time high. Our Mac 'n' Cheese Bake is the perfect shortcut, ready in just 8 minutes. And, it's certified gluten-free!
Plus, you can add any toppings you like – we love chopped spring onions, toasted gluten-free breadcrumbs, even crispy bacon or chorizo.
BITE-SIZE BRILLIANCE
What's better than a delicious cheese dish? One that's bite-size and covered in golden breadcrumbs!
Our Mozzarella Pockets and Mac 'n' Cheese Croquettes are a guaranteed hit at any party, buffet or reception. Alternatively, try as a starter, bar snack or side – they go with just about anything.
Get in touch today to request a call from our sales team, or to find your nearest wholesaler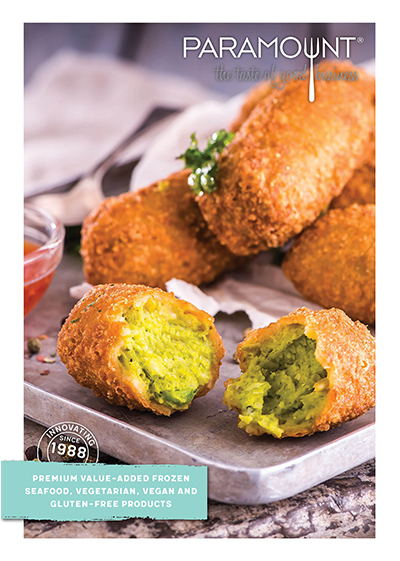 DOWNLOAD OUR BROCHURE
Stay ahead of your competition and make sure your menus are on trend.
Download our brochure for our latest trend watch report and full product guide.