OUR SEAFOOD PRODUCTS
Paramount offer a variety of delicious seafood products from fishcakes, fish pies and coquilles to award-winning whitebait. Seafood has never fallen out of favour and has remained a staple across pub and restaurant menus. But today, sustainable sourcing and exciting ingredients top the bill.
Read on for our top fish dishes, or download our latest brochure to see the full range.
STARTERS,SIDES & SHARERS
From whitebait and blanchbait to our show-stopping Coquille St Jacques, our seafood products will be on the table in minutes.
For a quick-to-serve sharing platter, serve our MSC Coated Blanchbait and Spicy Crab Cakes with rocket, lemon and tartare sauce.
FISHCAKES
Our award-winning fishcake range encompasses a variety of flavours and coatings to give your customers plenty of choice. And they're all gluten-free and accredited by Coeliac UK!
Introduce world flavours with our uncoated Sea Bass Fishcake, a delicious combination of cod, ginger and lime. Or try our battered Thai-Style Cod and Prawn Fishcakes. For a sauce-filled surprise, choose our melt-in-the-middle fishcakes, coated with a rustic seeded crumb. We've got something for every menu from traditional to trend-setting.
FISH PIES & MORE
Want to add a homemade look to your menus? Try our range of gluten-free fish pies, made with sustainable seafood and topped with our signature mashed potato.
Or try our MSC Jumbo Cod Fish Fingers, made with prime MSC cod fillet and coated in crispy gluten-free breadcrumbs with a hint of lemon. We love using them for a classic fish finger sandwich or as a gluten-free alternative to traditional fish and chips!
FISHING FOR THE FUTURE
These days, consumers are looking for ways to live in a more environmentally friendly way. At Paramount, this has long been at the heart of our business and influences everything we do.
We recognise the urgent need to encourage and develop better fishing practices for the management of global fish stocks. Sustainable sourcing and responsible fishing has to be the main focus for seafood companies, and we have been at the forefront of this for many years.
Paramount actively promotes products that contain seafood from MSC sources or other internationally recognised sustainable fishing standards, as well as from aquaculture farms that are well managed and sustainably run.
Get in touch today to request a call from our sales team, or to find your nearest wholesaler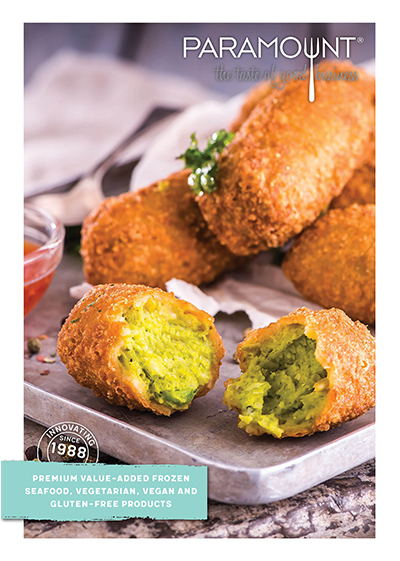 DOWNLOAD OUR BROCHURE
Stay ahead of your competition and make sure your menus are on trend.
Download our brochure for our latest trend watch report and full product guide.