After weeks of preparation and planning for all weathers (!), a handful of Paramount volunteers set up our stall at the Fishstock Festival in Brixham.
We sold a range of our tasty seafood and vegetarian products and are donating 100% of the proceeds to the Fishermen's Mission.
It was a very long but successful day – we had 2 shifts of 4 starting at 8am in the morning (set up at 8 and start selling at 10am) and the second shift didn't stop frying until gone 9pm.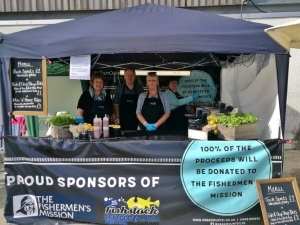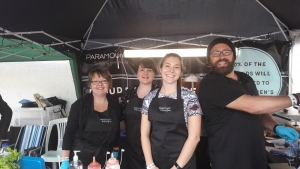 The team did a rousing trade, with lots of positive responses from the public.
We raised £886 on the day – which is an amazing amount from our one stand and we have topped it up to £1000!
Thank you to all those who volunteered to help on the stand.
Fishermen are intrinsically linked to our work at Paramount and they face danger, difficulty and poverty on a daily basis. However thanks to the Fishermen's Mission, they're not alone. When times are tough, they care for our active and retired fishermen in the most practical of ways – and have done so for over 130 years. The Fishermen's Mission offers financial, pastoral and spiritual support as well as a vital emergency response service.
The Fishermen's Mission is Registered Charity England and Wales No. 232822 and in Scotland No. SCO39088. They receive no government or Lottery funding and rely almost entirely upon voluntary contributions to fund their activities. Visit their website for more information http://www.fishermensmission.org.uk/ and keep an eye on http://www.fishstockbrixham.co.uk/ for news about next year's event.