Is your vegan menu Veganuary-ready? Last year over 620,000 people signed up to take part. What's more, Kantar research suggests that over 10 times more people took part in Veganuary than signed up, which means over 6 million people looking for delicious vegan food, so make sure you have exciting options to choose from this year. Having a dedicated Veganuary menu is a great way to join in, with free tools available for businesses to promote your offer.
OUR FAVOURITE BURGERS FOR YOUR VEGAN MENU
Check out our top serving suggestions for our best-selling vegan burgers.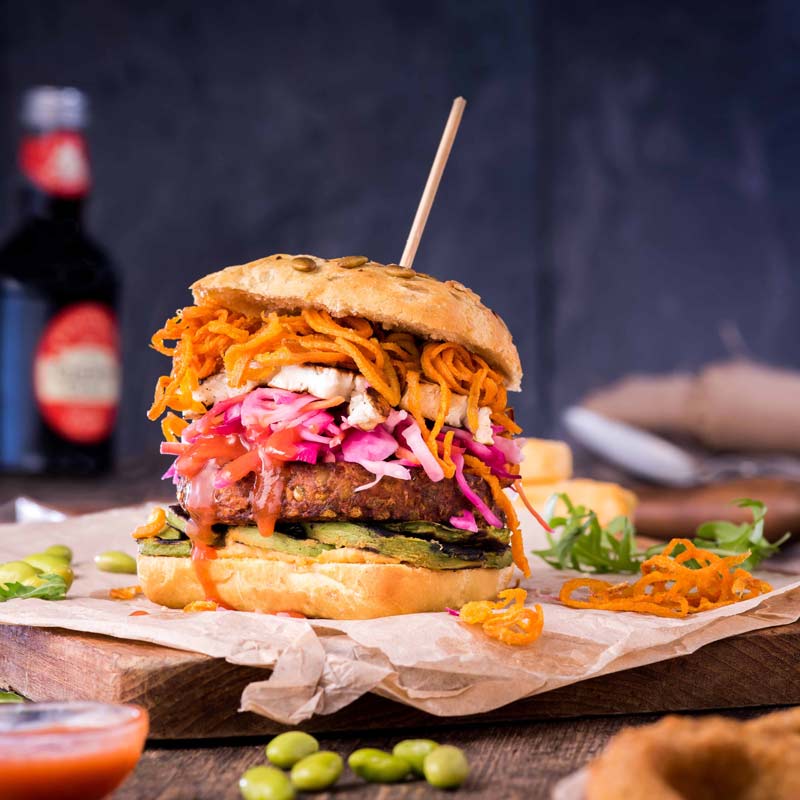 LUXURY VEGAN BURGER
24 x 95G  |  VEGAN  |   GLUTEN-FREE
• Serve in a rustic bun with BBQ sauce, vegan smoked cheddar, avocado and fresh lettuce leaves for the classic stack.
• Layer up for a veggie sensation: we love pickled beetroot slices, juice beef tomato, or grilled yellow peppers. Serve in a seeded bun, with a side of sweet potato fries and a sprinkle of chilli salt.

AROMATIC GARDEN BURGER
20 x 145G  |  VEGAN  |   GLUTEN-FREE
• Delicious in a gluten-free flatbread. Halve these lightly-spiced burgers, top with spiced red cabbage slaw and vegan oat crème fraiche.
• Or embrace the greens with a no-bun burger: top and tail with Portobello mushrooms, or lettuce leaves, and serve with a fresh side salad.
A TREND THAT'S HERE TO STAY
25% of diners would choose a vegan dish when eating out if more varied options were available (CGA's Food Insight).
GET IN TOUCH
For more information including our fantastic range products for your vegan menu, contact Fran, our Head of Sales & Marketing (Global) on [email protected]