Over the next few weeks, we'll be bringing you a series of blogs on the top Australian food trends set to influence your customers' purchase decisions in 2022.
1. ANCESTRAL EATS
In their Pinterest Predicts Report for 2022, Pinterest has highlighted an increasing interest in 'ancestral eats' – traditional recipes, rooted in cultural heritage. We're now looking for dishes that have been passed down from generation to generation, but with a global twist.

This trend moves on nicely from last year's interest in home cooking, family dining and comfort foods. In 2022, we're looking to explore traditional dishes from around the world, tapping into new and unexplored cuisines.
Trending Pinterest search terms include:
Norwegian recipes traditional +120%
Filipino recipes authentic +35%
Traditional Russian food +3x
South African recipes traditional +150%
Arabic food traditional +2x
How to tap into this trend:
You don't have to revamp your entire menu to respond to new trends. Chances are, not all of them would be right for your brand. They do, however, provide a great opportunity to review and refine your offering.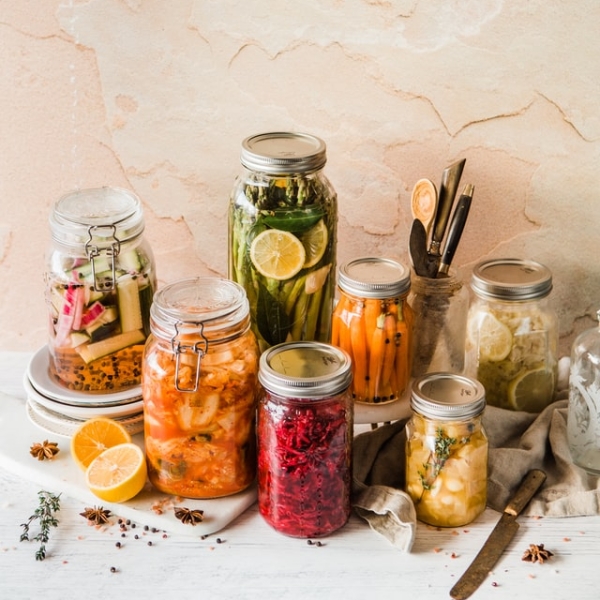 If there's a growing interest in Norwegian recipes, ask yourself why? What is it customers might be looking for? Norwegian food is known for its simplicity and use of raw ingredients from the mountains, wilderness and coast. Could this approach work on your menu too? Try locally sourced or foraged ingredients, or fermented or pickled elements.
Equally, if South African cuisine is trending, could diners be looking for dishes with a stronger depth of flavour? Perhaps more spicy and aromatic, or even something they've never seen on your menu before. Try switching out that tried and tested chicken tikka for a Malay curry.
Understanding trends and the reason for their growing interest will help keep your menu fresh and exciting without compromising brand values.
2. THE POWER OF PLANTS
We can't talk about food trends without talking about a plant-based diet. In 2021, over 500,000 people signed up to take part in the month-long Veganuary challenge. Six months after, research conducted by Veganuary revealed 82% of participants maintained a major reduction in their animal product consumption.
The main drivers for this growth come from consumers wanting to make a difference in the fight against climate change, and the health benefits associated with plant-based living.
In Whole Foods Market's latest trends report, 'reducetarianism' was dubbed a top trend to watch for 2022. Many of us are now choosing a 5:2 plant-based diet – veggie or vegan 5 days a week with meat seen as more of a treat for two days of the week.
The trend for plant-based food in Australia is influencing many other food and lifestyle trends, including:
The increasing demand for premium quality meats, fish and eggs. When meat-reducers are eating these products, they want the best quality, locally sourced, and from environmentally friendly farms.
Specific ingredient and flavour trends, like mushrooms. These are growing increasingly popular for their health benefits, umami flavour and use as a meat alternative. Mushroom powders are being used for health drinks, and to add flavour to meat substitutes. In particular, Lion's Mane is set to be the hottest fungi of 2022. It has a particularly high nutritional value and the ability to mimic seafood dishes, particularly crab and scallops due to its fibrous texture.
The rise in health and wellness was brought to the fore during the pandemic but is also closely linked to the plant-based lifestyle.
What does this mean for your menu?
We know much of the demand for plant-based comes from flexitarians wanting to improve their impact on the environment and live a little healthier. Providing the right balance of options is key. Have your menus adapted fast enough or do you still only have the one token option?
Building from vegan bases is a great way to cover all dietary requirements without having to extend your menus endlessly.
Don't forget the veggies – using a plant-based burger and offering the option to add real cheese is a great way to keep vegetarians happy and still have a great vegan option. Maybe you could carry one type of vegan cheese for the plant-curious too?
Offer the option to customise vegan main courses. Do you have a vegan and a meat-based curry on the menu? Instead use the vegan curry as the base and offer the option to add extra proteins you already carry, like chicken or prawns. This will help cut down on the prep time for two different dishes and help to use up other proteins in the fridge.
Use one product across different menu slots to save freezer space back of house. For instance, our Luxury Vegan Burger is delicious with vegan cheese & mayo. For veggies, swap in a vegetarian cheese, and for meat-eaters offer a pulled pork topping.
Embracing a flexible approach to vegan and vegetarian dishes will mirror this growing trend, and help you develop the best menu possible to tempt consumers through your doors.
Watch out for our next instalment for the hottest Australian food trends in 2022, and get in touch for more info on our product range and stockists.