OUR WHITEBAIT PRODUCTS
If you've eaten whitebait in the UK there's a good chance it came from Paramount – we've been producing it since we started trading over 30 years ago.
MSC Uncoated Whitebait – whole and uncoated

MSC Gluten-Free Coated Whitebait – headed and gutted and lightly coated in gluten-free breadcrumbs

MSC Coated Blanchbait – whole and coated in breadcrumbs
We've long believed that sustainable sourcing has to be the main focus for seafood companies. As such, we're proud that all of our whitebait products are MSC-certified sustainable with full MSC chain of custody.
By championing sustainable whitebait, we're helping to ensure this well-loved nostalgic classic can remain a staple on British menus, as it has for the last 30 years. Loved by diners and chefs alike for its simplicity, just add a good quality mayo, sea salt and a squeeze of lemon.
NEW RETAIL-READY PACKAGING
All of our whitebait products now come in brand new retail-ready packaging. These colourful packs are brilliant for offering greater flexibility, with the ability to split cases down and sell by the bag. They're perfect for cash and carry, home delivery, farm shops, delis, and for walk-in customers looking to take an extra treat home.

PERFECT FOR YOUR MENUS
Quick-to-serve – cooks in just 2-3 minutes

Great margin with 3-5 starter portions per bag

A firm favourite on British menus

Brilliant for tapas, starters and sharing dishes

Perfect for takeaways, festivals and street food

Our Gluten-Free MSC Coated Whitebait (F0893) is gluten-free and headed and gutted, which is perfect for those customers who don't like to eat whole fish

The Uncoated MSC Whitebait (F0582) is brilliant for adding your own flavoured crumbs, flours or batters.
Get in touch today to request a call from our sales team, or to find your nearest wholesaler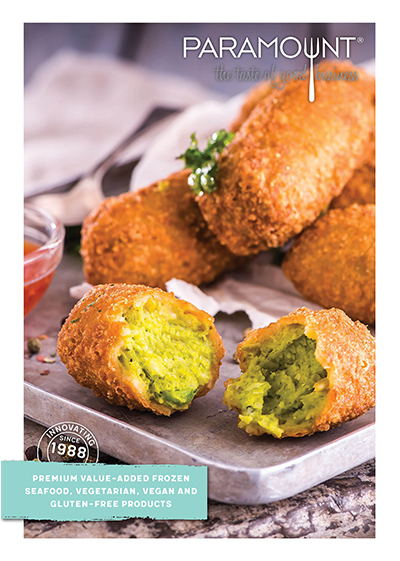 DOWNLOAD OUR BROCHURE
Stay ahead of your competition and make sure your menus are on trend.
Download our brochure for our latest trend watch report and full product guide.