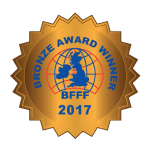 We are thrilled to announce that our new Gluten-Free Fish & Chip Shop Bites received a bronze award in the Best New Starter / Buffet / Appetiser Product category at the BFFF 2017 Foodservice Awards.
Ali Hannaford, Paramount 21 Chairman, said: "We are really pleased to have won a BFFF award for our Gluten-Free Fish & Chip Shop Bites. The industry awards are great recognition for the hard work that our new product development, production and marketing team have put in to this new line which is already attracting a vast amount of attention throughout our global market."
The BFFF (British Frozen Food Federation) foodservice awards are very well respected within the industry. All entries are judged by catering experts who are uncompromising with their product assessments.
John Hyman, BFFF chief executive, said: "The brilliant range and variety of products entered into the awards in 2017 demonstrates that innovation is alive and well in the frozen food category with a wonderful range of inventive, mouth-watering, delicious products being offered to consumers and caterers. The UK frozen food market continues to evolve and take advantage of the general consumer trends of premiumisation, health, online and minimising waste.  As inflationary pressures build and put pressure on household disposable income, frozen food's great value for money will become even more important."
NPD Innovation and Trend Watching
Market insight blended with skill, innovation and creativity are at the heart of our new product development:
Casual tapas-style sharing food remains strong and these bites lend themselves perfectly to platters, bar snacks, quick menus as well as grab-and-go options
Innovation doesn't have to be complicated. This product perfectly captures the taste of the traditional Fish & Chip in one bite – Classic with a contemporary twist…
Seafood (and vegetarian) options continue to be in demand on menus across the country with consumers seeking more meat-free alternatives when eating out.
Allergens and Sustainability
Tastes and trends are not the only considerations when developing new products. Allergens and sustainable credentials are also extremely important to us here at Paramount.
The Fish & Chip Shop Bites contain MSC cod and are also gluten-free (as certified by Coeliac UK).
Serving Suggestions
Serve in a newsprint greaseproof paper cone with a side of chips and mini servings of chip shop treats: mushy peas, a pickled egg, cockles and curry sauce.
Serve on a bed of crushed mint and chilli peas, top with diced potatoes and finish with a drizzle of lemon crème fraiche.
Further Information
If you would like to find your nearest wholesaler or would like to place an order (MOQs apply) please contact us on [email protected].